Economy
Virgin Atlantic's legendary service is evident in its comfortable economy class cabin. Enjoy personalised attention, an amenity kit and complimentary meal and beverage service throughout the flight. To further enhance passenger comfort, pillows and blankets are available at each seat. For those who require that little bit more space, Virgin Atlantic offers seats with extra leg room for a small fee. Each seat is equipped with an adjustable headrest for maximum comfort.
Entertainment: Virgin Atlantic's in flight entertainment system is filled with hundreds of movies, shows and games. Easy to use touch screens will have you breezing through the entertainment options and enjoying your favourite movie or show in seconds. Comfortable headsets are provided.
Food and Beverage: Each guest is provided with a menu after departure offering delicious meal options and a wide variety of wines, beers, spirits, juices and soft drinks. As on all Virgin Atlantic flights the meal and beverage service is complimentary and features delicious dishes with an innovative twist. Entrée and mains are served first, then a dessert service. Coffee and tea are always available and on most fights so is a delicious hot chocolate.
Premium Economy
Enjoy the comfort of Premium Economy with comfortable leather seats and an amazing 38 inch seat pitch on Virgin Atlantic flights. That's more than enough leg room for even the tallest of passengers. And with a wide arm chair type seat, adjustable headrest and pillow and blanket, a flight in Premium Economy is sure to be a comfortable one. Enjoy a complimentary drink upon boarding along with a smart looking amenity kit with lots of little travel accessories. On the ground, enjoy priority boarding and expedited bag service.
Entertainment: Loads of programming is available on Virgin Atlantic's award winning in flight entertainment system. Noise cancelling headsets create a quiet atmosphere in which to enjoy the latest movie or show, or maybe even a classic selection if you like.
Food and Beverage: In Premium Economy you'll find table linens and linen napkins. Delicious meals are served on fine china and include a selection of fine wines and premium beers and spirits. An after dinner liqueur is served with tea or coffee creating a true restaurant style experience.
Upper Class
The comforts and amenities of Upper Class on Virgin Atlantic flights begin right at your front door from the moment your chauffer driven car arrives to take you to the airport. Enjoy a dedicated check in area, private security channel and lounge access. Once on board, enjoy the private space and comfortable surroundings of your arm chair seat which transforms into a fully flat bed.
Entertainment: With so much entertainment available on the flight, you won't even want to sleep. So snuggle into your bed of fresh sheets and fluffy duvet and enjoy the entertainment on your personal video screen. Noise cancelling headsets will tune out any ambient noise around you.
Food and Beverage: The finest champagnes and wines are available immediately upon boarding. The attentive cabin staff will take your order from an extensive menu of entrees, mains and desserts. If you're not hungry right away, that's ok too. Upper Class on Virgin Atlantic flights allows you to eat when you're ready, anytime. If you're travelling on a daytime flight, you'll even be treated to a traditional afternoon tea service.  
Virgin Atlantic Baggage Allowance
Carry-on
Virgin Atlantic recently increased its cabin baggage allowance to 10kg for economy and premium economy. Only one bag is allowed in the cabin and laptops and other devices must fit within this bag. Children and infants are also allowed one carry-on bag up to 10kg in weight.  The cabin allowance for Upper Class is 2 bags with a maximum weight of 12kg each.  Additional items allowed in the cabin are small handbag, pocketbook or purse, coat, umbrella and a small amount of duty free.

Place any medication or valuables in your cabin luggage.

Checked
The allowance for checked baggage may vary depending on routing, class flown and frequent flyer status level. The general breakdown is as follows:
Economy – one bag with a maximum weight of 23kg
Premium Economy – Two bags with a maximum of 23kg each
Upper Class – Three bags up to 32kg each

Economy and Premium Economy guests are allowed one additional bag on flights between the U.K, Canada, the U.S. and India
Bulky Items
For qualifying sporting equipment of 23kg or less, these items may be checked in free of charge over and above the standard allowance. Contact your Flight Centre Travel Expert on what items are allowed at no cost and for those which require additional fees and advance booking notice.

Music instruments must be packed in a protective case and if in excess of the passengers standard baggage allowance an excess bag fee will be applied.

Infant Baggage
Infants are allowed one checked bag plus a car seat or pram and one piece of cabin baggage no more than 6kg in weight.

Additional bags may not be purchased for infants
Dangerous Goods
There are many dangerous items that are forbidden on flights. Items include flammable liquids, gasses and materials, explosives and fireworks, poisons, paints, fertilizers and lithium batteries. For a full list of these items check with your Flight Centre consultant.

Always contact your travel agent or airline in advance if you think an item you're carrying may be considered a dangerous good. Some items may be allowed but will have specific procedures to follow for carriage.
Check-in at home or at the airport
Virgin Atlantic offers several ways to check in for your flight:
Online: Checking in online for your Virgin Atlantic flight is the quickest and easiest way to seat select and print off your boarding pass. Just go to the 'Manage Your Flights' icon on the Virgin Atlantic website and proceed from there.
Mobile Check In: Check in on your mobile device between 24 and 2 hours before departure and make your seat selection. Simply print your boarding pass at the airport kiosk or bag drop off area.
Kiosk: Kiosk check in is only available at U.K. and U.S. airports. Follow the prompts, print off your boarding pass and proceed to the bag drop off point before heading to the gate.
Airport Counter: Airport check in counters are available for bag drop off and seat selection several hours before flight departure. Dedicated lines are normally available for Virgin Atlantic's Premium and Upper Class passengers.
International Check-in Guide
at home
Know what time you need to leave the house to get to the airport
Pack your things, check out our baggage guide
Have your flight itinerary ready
Ensure you have your valid passport ready
Getting there
Be at the airport at least

120 minutes

prior to scheduled departure time
At the airport
Proceed to check-in counter with passport and itinerary ready
Go through security
Continue through customs
Check the gate number and flight status
Sit down and get comfy!
Unwind in the Virgin Atlantic Lounge
Virgin Atlantic lounges are innovative, exclusive hideaways that offer attractive spaces to relax before a flight. These spaces are reserved for those flying Upper Class as well as Flying Club Gold members. Guests can enjoy a meal, freshen up with a hot shower or sit at the bar with a drink. It's the perfect place to unwind.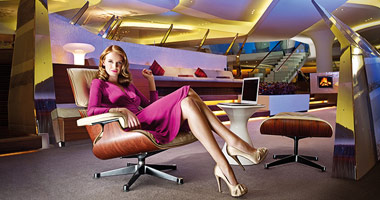 Virgin Atlantic's inviting lounges can be found at 10 of their global destinations. Where Virgin Atlantic does not have their own, the airline offers lounge access at partner airline lounge facilities. For flights from Australia, Upper Class guests have the use of Air New Zealand's lounge. Virgin Atlantic has its own Clubhouse in Hong Kong for those connecting on to London.
Virgin Atlantic's Loyalty Benefits
Virgin Atlantic's Loyalty benefits, the Flying Club program, rewards flyers based on three status tiers; Red, Silver and Gold. Silver members enjoy a 50 percent points bonus and have priority check in advantages. Gold members earn an extra 100 percent miles bonus, Clubhouse access, priority check in and boarding and much more.