Choose from our range of Mauritius holiday packages that include your flights, accommodation, and often special bonuses like tours and free upgrades. If you can't find the package you're looking for, contact one of our friendly consultants on 0877 40 50 00 and don't forget to ask about customising a package to suit your needs.
East of Madagascar and southeast of the Seychelles, Mauritius was discovered by Arab sailors in the 9th century and has since been colonised by the Dutch, French and British before gaining independence in 1968. Beyond the picture-perfect beaches, there are 700 species of indigenous plants spread across the island's 65 kilometre length and 45 kilometre width. Its varied past has left a blend of culture, architecture and influences on food and most people are equally fluent in English and French.
Wish You Were Here?
Here's the rough guide to making the most of your Mauritius stay if you want a beach break plus a little more:
Try glass-bottomed boating at Blue Bay – partly designated marine park, it's quietest during the week.
Visit the Hindu temple at Triolet – built in 1819 to honour the gods Shiva, Vishnu, Krishna, Brahma, Ganesha and Muruga.
Hike in Black River Gorges National Park – enjoy the fresh air of the virgin forests.
Surf at Tamarin Beach – the bay also has a dolphin pod and dramatic views to an extinct volcano.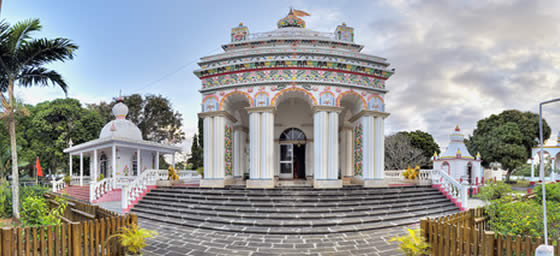 Hindu Temple at Triolet
The only caveat with island paradises is a watch on cyclone season: it's December–March. So if you're hankering for a little slice of paradise, grab a flight to Mauritius or check out the Mauritius holiday packages to keep your plans simple.